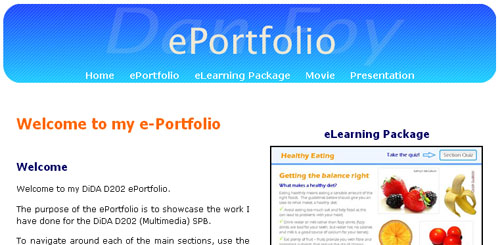 Yesterday was the deadline for the multimedia module of the renown stress-management course DiDA. I have not known such a feeling of freedom for weeks.
For the D202 module, which was based on 'energizing your life', we had to produce:
An eLearning package (a bit like MyMaths) aimed at 14 to 17 year olds;
A promotional movie for the eLearning package aimed at teachers;
A 6-slide looping presentation to be used at secondary school induction days;
A multimedia-centric ePortfolio (website);
Backup materials such as commentaries, a journal, assets tables, a review, etc.
The products and backup materials were by far the easy part. The problem with the DiDA course is the bizarre mark-scheme that grades you only get something like 9 out of 42 possible marks for the quality of your products – the brunt of the marking is for planning, reviewing, getting feedback and acting on feedback.
Anyway, I now have a fortnight of relative doss before the next SPB starts. Now I only have business coursework, a trial SPB, maths coursework and revised drafts of English coursework – wow, it will be almost like a holiday!