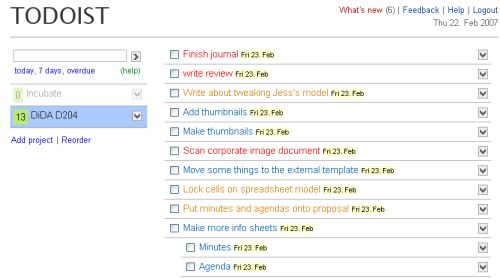 Today I discovered an amazing tool for creating to-do lists – Todoist.  It's similar to the other 5000 to-do-list apps out there with an important difference – it's usable.
Unlike most widget apps, it's fast and accessible from anywhere. Unlike most other Web 2.0 organization apps, it is completely free of bloat and a pleasure to use. It is ridiculously light and doesn't require a mouse for operation.
Go on, sign up for an account. Try out some of the great hotkeys – like 'a' for a new item, 'ctrl – left/right' for indents, and the tab key actually works in a useful order – from the name field to the date field, to add and then to cancel. The date field is smart, too – it recognises dates such as 'tomorrow', 'in a week' and so on.
Just the thing for those end-of-project checklists, work deadlines and lists of blogs you simply must write.