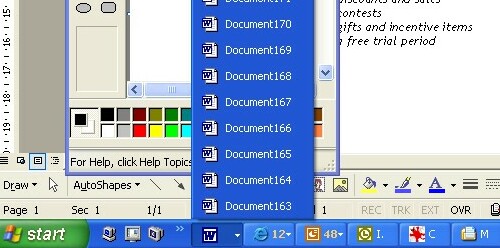 Whilst wallowing in the boredom that GCSE Business Studies coursework induces, a peer who shall go by the flimsy alias of 'worms' decided to take it upon himself to discover how many programs he could run off a school terminal without it crashing.
The experiment (which focused on Microsoft-produced programs) was pretty simple:
Find a program that creates a new instance of itself upon pressing the hotkey Ctrl + N;
Hold down said hotkey until you get bored / the rate of creation of new instances slows to a crawl / the terminal starts to spasm, lock up, or is otherwise retarded;
Take a screenie.

We were quite pleased with the results. It was discovered that whilst Internet Explorer is a surprising resource hog and crashed my computer after something like 20 windows (I knew it was bloated, but I didn't think it was that bad), Word is some kind of self-replicating machine; it is possible to spawn around 170 fresh Word documents in about 20 seconds before the system even seems to notice what you're up to.
Anyway, you can see the final outcome of the Windows Challenge by clicking on the thumbnail above – the terminal could probably handle more, but our 'Worms' character got bored and decided that passing GCSE business studies is perhaps more important than giving his computer a stress-test.