Comet salesmen recently all had to undertake training for new 'Comet on Call' call-out technician packages. One of the briefs sounds something like the following: "over time, dust can build up inside your computer and slow things down. The dust particles cause your computer's internal hardware to overheat and become sluggish, or even become permanently damaged".
I read in a computer magazine some years ago that compressed air is excellent for removing dust from hard-to-reach places. I noticed whilst installing my second hard-drive a month or two ago that my processor fan had become clogged with dust. I managed to find some 'compressed air canisters' floating around on ebay and decided that perhaps they would help shift the dust and thereby reduce the maddening volume of my processor fan, which does seem to be getting louder and more strained each week.
The fan system above the processor in my computer was pretty dusty, but also pretty hot, so I decided to wait for it to cool before spraying the compressed air. Lucky I did really: it gave me a chance to read the label properly, and as it turns out, the 'compressed air' is actually a chemical mix that is highly flammable. I decided to do a quick spark-check on the residue that I presume shouldn't really be evident from compressed air, but was being produced in copious amounts from my canister.
I initially tried this on an old Marshall practice amp that I have in my room, but I'm not trying that again. I tried it out on an unused skateboard after and took some pictures to give you some sort of idea of the flammability: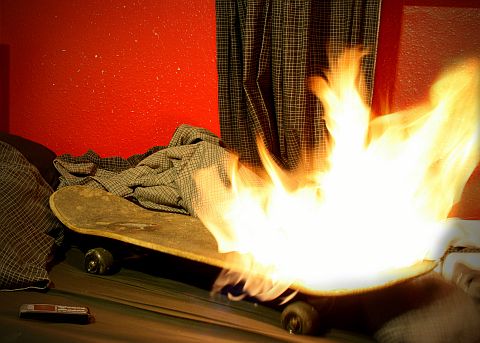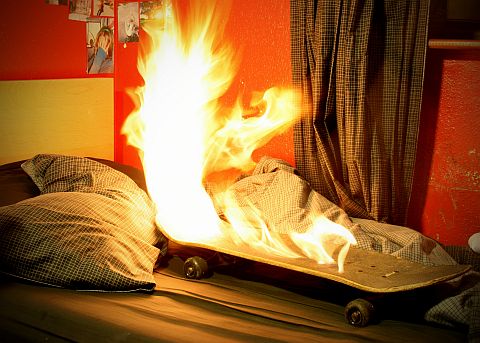 That last fireball actually singed my hair and by the looks of it almost took out my phone. And I was going to spray this shit into my computer's hottest component?